Stone Soup

Stone Soup?
Weird name. Delicious soup. Trust us. Besides, the recipe uses AN ENTIRE TUB OF GARLIC HUMMUS. And then puts it INTO WONTONS. And then PUTS THEM INTO VEGETABLE SOUP. Do you really need to know anything more?
Featuring:
Roasted Garlic Hummus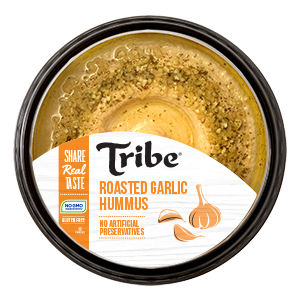 Ingredients:
Serves 4
½ cup cooked mushrooms, chopped
16 wonton wrappers
2 tablespoons olive oil
1 medium yellow onion, chopped
3 cloves garlic, minced
1 bay leaf
4 cups leftover vegetables, chopped
2 quarts vegetable broth
2 tablespoons chopped parsley (or fresh herbs you may have)
Instructions:
To make dumplings:
Mix together roasted garlic hummus and chopped mushrooms. Lay wontons on work surface. To prevent wonton skins from drying, prepare only 1 or 2 rangoon at a time. Place 2 teaspoons of filling onto the center of each wonton skin. Moisten the edges with water and fold the wonton skin diagonally to form a triangle, pressing edges to seal. Moisten one of the bottom corners. Create a crown by pulling both bottom corners to the center and sealing.
To make soup:
In a large stock pot or soup pan, heat the vegetable oil, add the onion and gently cook until the onions begin to soften. Add the garlic and cook for another 5 minutes taking care not to burn the garlic. Add the leftover vegetables and stir. Add the stock and bay leaf (and spices if using) and cook until soup simmers for 15 minutes.
To serve:
Bring a pot of salted water to a boil. Working in batches of 4, place the wontons in water, and cook for 4 minutes, or until they float. Remove with slotted spoon and transfer to serving bowls with prepared soup.
---