Rainbow Collard Wraps

POP YOUR COLLAR...D GREENS
These wraps are as nutritious as they are trendy. And they're as trendy as popped pink polo collars a la 2006. How's that for a throwback? Aren't you glad social media wasn't a thing back then? Oh wait. It was. Anyways. About these wraps. Post a picture of this deliciousness, and we promise you'll look back in 15 years and think, "Hmmm, I should make those again!"
Featuring:
Everything Hummus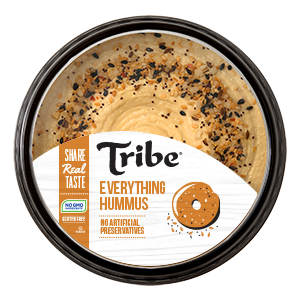 Ingredients:
Serves 2
4 collard leaves
1 cup cooked brown rice
1 carrot, cut into matchsticks
1 small cucumber, cut into matchsticks
1 small yellow bell pepper, sliced thin
1/2 cup shredded red cabbage
1 small bunch cilantro, roughly chopped
sesame seeds, for sprinkling
lime wedges, for serving
Instructions:
Prepare the collard leaves. Trim off the coarse part of the stems. If your leaves are large and on the tougher side: very quickly blanch them in boiling water for 2 seconds, then transfer them to ice water. Dry off any excess water before assembling. Next, assemble the wraps. Arrange your fillings on the collard leaf in the following order: a layer of hummus, a layer of brown rice, carrot, cucumber, bell pepper, and cabbage. Sprinkle with cilantro and sesame seeds. Eat like a taco. Or roll it into a burrito, because everyone loves a burrito.
---